Tuesday, May 31, 2005
Sunset Monologue 41
The Diet Can Go To Hell Edition
Hold Your Breath! Something New Is Coming!
As I am on the countdown to Birthday Number
39
, be on the lookout for something different here. June 4th is the date! June 4th is the date!
BBQ'ing Rain Style
Atlanta always has a way of throwing you a curve ball weather wise. Atlanta is also steeped in real and imaginary tradition. Memorial Day marks the unofficial beginning of summer, the date you can bring out your white and the date the sun is suppose to start beaming down on us unmercifully until Labor Day. But because of all you drivers and smokers and what not - the ozone layer is shot to hell, so it's been damp, dreary and rainy all damn day! That,however, does NOT stop a Southerner from BBQ'ing - so I got up and was hyped about getting out on the grill. I bought me a new grill because the one I had before met an untimely death due to leaving it out in the rain; it rusted thru and thru. I put this grill together last nite in about two hours so GIRLPOWER!!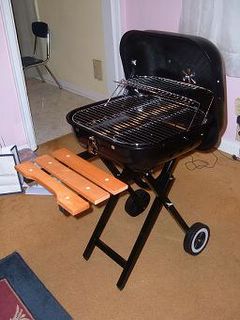 Put together by ME & still standing
Then I started watching the Food Network and their 'Grill and Chill' weekend extravaganza and immediately started tripping, lol I am a MASTER BBQ'er!
Yea...Right
So I decided on Chicken, Lamb Chops and Steak. I got the fire going and then as the rain splashed all around me, I got to queing in my carport, lol lol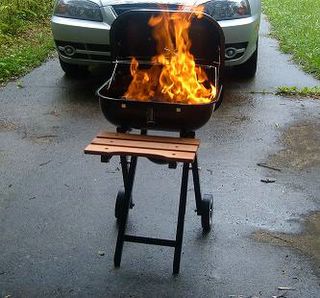 Now that's a fire in the rain!
Talk about some good food!! I ran back and forth watching the cookoffs and 'pretending' I was in competition. Saw something to add to the sauce and had it on hand so I did! The ability for me to entertain myself is amazing, lol
My Imaginary Cooking Show Entry
Adding to my meat, I made some homemade potato salad with not an overbearance of mayo like I like it and some baked beans doctored up and slow cooked to perfection.
Of course I had to have me a cocktail or two, lol The drink of choice: fruit punch, lemonlime soda and VODKA! LOL I found these really nice glasses on clearance - so I had to break one of those in.
Having found these classic cafetaria plates at the thrift for eating foods that require separation - I loaded up the plates and mini-me and I dug in.
Yummy!
I AM SO DAMN FULL!! IT MAKES NO SENSE TO BE THIS FULL! I should not have drank the number of cocktails that I did, lol - they filled me UP!
Well I just wanted to post the cooking side of Memorial Day Plicious Style
Dateless in Atlanta
The Good Reverend Leon Lonny Love & I chatted on the phone briefly and in the course of less than six conversation and no face to face - he professed I was his best friend, he could truly love me, 'jokingly' said we should marry and asked for my ring size. A moment of silence please for the little umpire that lives in my life alerting me to 'red flag' issues - he collapsed due to the overwelming energy he expelled throwing red flags on the playing field in this instance. A new umpire is being trained in his place.
Posted by Pamalicious :: 8:00 PM :: 4 comments


---------------oOo---------------