Saturday, April 02, 2005
Sunset Monologue 25
I Think I Betta Let It Go!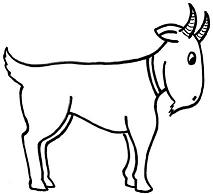 Are You a Goat?
"You're A Goat"; I looked at the words staring at me in the little IM Box and thus begun two days of introspective. I KNEW it didn't mean Greatest Of All Time, lol or I was a four legged farm animal, so I had to dig into the methorphical statement and it meant that I just kept 'chewing on shit' long after it should have been digested. What's funny about the statement is that I agreed, because in the context it was used and with whom it was used
(MoBetta
) it was correct.
What's funny about the memory process is that your memory is like a file cabinet. You have the files you keep on your desk (your short term memory) and the files you keep on archive (your long term memory). The problem arises when you update the files on your desk, but not your archived ones. Your memory is stimulated by 'triggers' and when these happen, you pull out the file and go with that. Very few of us (especially women) actually go in and update the file appropriately...thus the Goat effect.
So in my mind, I'm no longer hurt, no longer making voodoo dolls and no longer angry, however the file says otherwise. I really had to think about that and why I have had such a hard time updating that file in ink. Especially when I now realize that it's on me like a club foot. Maybe it's because I care, maybe it's because in looking at the same spots we see two different butterflies - but what I do know is that it was a wake up call. I sat down these last two days and updated that file in ink and put that page on the top of the folder.
I be damn if I'm going to keep chewing on my own vomit.
"Mobetta"
and I have grazed in this field for so long, it's time to let new grass grow with us, the earth still has the capacity - so why not let it. Today my friends,
I swallowed!
---
Beyonce and Janet Hittin The Road
The Road Trip - - A Teaser
Well peeps, I'll be going on a Thelma and Louise Road Trip come June. I'm sooooooo excited (that's sad ain't it, lol) Me and
"Janet"
will be hitting the road for Philly/NJ/NY. I've already begun laying out our itinerary because she would expect nothing less. I've begun compiling the special CD's I'll be burning for the trip and the travel packet, lol lol We'll be dropping off Mini-me with my mom (for like five weeks - that's ANOTHER story, me in ATL in Summer; No Child insert James Evans laugh HERE. So stay tuned for trip prep updates and then the travel log and pictures!
---
BLURTS
I've added a couple of new 'blogs' to my favorite lists - don't forget to support the other brothas and sistas.
I'm slippin back into netting - don't okay - I already KNOW!
Posted by Pamalicious :: 8:53 PM :: 0 comments


---------------oOo---------------