Thursday, March 17, 2005
Sunset Monologue 16
THURSDAY RAMBLINGS
Winter Wonderland and the Blackman
Courtesy of http://www.tyson-beckford.iwarp.com/
Winter is my favorite time to go Brotha 'Sightseeing' - There is just so much to see! Even a corny brotha can redeem himself between the months of October and March, lol Some Sista like a Summertime Brotha, but there's really no room for creativity in the summer and it can get extreme (two words: NET SHIRTS), but what a feast for the eyes in the wintertime!
I'm talking CRISP fitting jeans and cable knit sweaters and brothas with skullys and matching sweaters and dark brown cords w/Tims to match. Black Leather jackets open regardless of the weather while they stroll, Flannel shirts open revealing thermal shirts, raggedy jeans and Tims.
Lord Have Mercy!
All kinds of hats, tipped forward/back and to the side. Adventurous Brothas who rock fur lined collars or freak it - wear fur period, lol. Nice wool business suits or couture' Sean Jean!! And then the winter scents - dark husky wood smells drifting - beards and moustaches grown out for the cold....OH and the piece de resistance - -
CHAPSTICK
Enough Said!
Damaged Goods
Is there such a label for a Human? Are there people walking around out here who due to life, love or whatever are just not desirable but on a short term basis if that? Have YOU lived your life in such a manner that you have created a chasm between yourself and happiness? Once damaged - can you be 'repaired'?
Things I can't figure out


Where the hell are all my socks?

Why are all my CD's scratched right on my favorite song?

Why when I watch something I barely watch on TV it's the ONE episode I DID watch?

Why do Brothas think laying pipe = Good Sex?

If I don't act excited to see or talk to you - you still think I am?

You say you don't need a man - but constantly all up in one's face

Why is "do you" so popular? - maybe You need a reality check about You.

If the world is round - why haven't we gotten back to the good ole days?

Just call me the Riddler
Do You Understand the Words Coming Out of My Mouth?!
I don't know if I should be proud about this or not - but I am a walking bag of metaphors and other lyrically inspired takes on life. I also have a wealth of just 'not important' things stored away. My Father always told me to know one line about everything and as a summer activity we had to write the dictionary from cover to cover so this bastard language called English is something I love. I like looking up a word and forcing a person to acknowledge it's meaning and NOT their interpretation.
I love the art of putting words to paper or formulating just the right set of 'life lessons' together to give my friends something to think about - funny, people have called me the Riddler but never a bullshitter..Is there a difference?
---
Flashback Festival
Boys II Men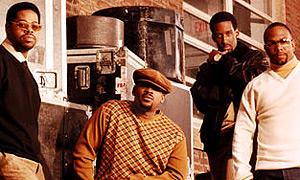 Motown Philly!
Shawn, Wayna, Mike and Nathan
- straight out of Phillytown and bringing it to us HEAVY for so many years. I have all of their CD's and the interesting thing for the true fan is that some of their best work was NOT what was getting mass play on the radio etc. but the little gems enclosed in each CD. Songs like:
"Right on Time"
or
"To The Limit"
or
"Girl in the Life Magazine"
or
"Your Love"
or
"Trying Times"
These songs endeared you to the crooners.
One of my favorite examples of how I just want to listen to them was when they guest harmonize on LL Cool J's hit
"Hey Lover"
they took rap love to a whole new level.
As with a lot of 'good' acts the fluff and smoke screen of the newer generation has pushed them to the side, but I still get out my Boys II Men compilation I made and rock them in my car. "Thank You"
---
The Mike Chronicles
Where or where do I begin? First the Fat Boys break up and now this! First the
accuser is cross examined
, then the
porn
is sent around the courtroom and now the
maid
is having her say in court.
Mike Godspeed Brotha!
And to top it all off the stress of this is getting to Mike as evidenced by the above picture - he's looking whiter than he usually looks. IF he comes away from this trail acquitted, if there ever was a time to reevaluate ones life - this would be it Mike. I don't understand why your classic entertainers like La Liz etc. Hadn't schooled you on the pitfalls of celebrity, but they probably did and you insisted on taking the road well traveled. Tsk Tsk Tsk.
Posted by Pamalicious :: 7:42 PM :: 0 comments


---------------oOo---------------