Sunday, March 13, 2005
Sunshine Monologue 4
$3.95 or less - The Thrill of Thrifting
One of my many fun names is "$3.95". No,that's not the worth I've put on my head, but rather the average cost of 75% of everything I wear, lol Growing up in a big family; I learned all about how to stretch a dollar and being a single mom; you get your masters degree in said skill.
I have been 'thrifting' 'yardsaling' 'flea marketing' "consignment shopping' and 'dumpster diving' for over 20 years now. Do I have to? Probably not, I can afford to go to the mall and purchase all that it has to offer, but I choose NOT TO! The art of making someone's trash into your treasure intrigues me and I get a thrill out of it. Besides, I'm not all caught up in keeping up with the Jones - I just wait till they get tired of their stuff and make it mine, lol
Having lived in NY for a number of years; I had an opportunity to learn all about 'personal style' and I adopted that way of thinking. Several years after that I worked out mine and now here I am.
Don't think for one moment that I am alone in this passion. Now Black People have some kinda aversion to it, but my saavy white counterparts stand side by side next to me - going thru racks of clothes etc. with the same zeal as I do.
I've learned that if you want current fads go to a thrift store in the black neighborhood - we get rid of our stuff quickly; if you want classics go to a white neighborhood - they get rid of things seasonally and usually good, well kept stuff.
You also can scour the newspapers because there are 'seasons' for things. Like now, the season for flea markets, yard sales and Church Consigments for children is in full swing. Mini-Me is at that 'delicate' age of Tweenism, but that doesn't stop me or her from going after a good deal. We even have a secondhand store just for teenagers! It is always packed since they can be quite fickle about what's in this week versus what was in last week.
I acquired the name "$3.95" because it's one thing to go and just get you some mismatched items to save a buck, but it's another to develop what I call "Thrift Chic" where you can pretty much put together an entire outfit COMPLETE with shoes for under $5.00.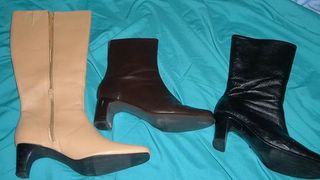 3/$10 All Leather All the Time
Georgia Thrift Stores are a bit expensive, so you have to look extra hard for a 'bargain'. I have an eye for what I like and when I see it - I get it. I also think 'outfit' as opposed to separates and try to leave the store with a set.
Every blue moon you come across a 'gem' like the time I was looking in a Bin of pocketbooks at the Salvation Army and came across a black bag with that little triangle that said PRADA on it. I stopped shopping and wnet and bought the bag for $3.95 - took it to my car and THEN resumed shopping, because it's not unheard of for you to turn your back on your cart and something come up missing.
Nine West and Prada Bags - $1.95 and $3.95 respectively
"Dumpster Diving" is something I don't do often, but when the opportunity arises - I partake. This is where you see something on the street, set out for trash that you have just got to have. Popular opportunites include: Moving and Eviction. I recently acquired two file cabinets and a new office chair from my moving neighbors across the street. Now my office is complete, lol
Gap, Nine West, Norma Kamli, Prada, Rocawear, BabyPhat all acquirable right at your neighborhood thrift store - if you are looking hard enough.
65 Cents A Piece! These are Anne Klein Ladies
Sometimes I think about the fact that I NEVER go to the mall or shop there with frequency. I'm just not that into clothes to begin with, and I'll vow to go - but then I think about coming out the mall with a shirt and some socks for $25 or coming out the Thrift with 4 outfits for the same amount and money left over to treat myself to lunch or dinner and I head on over to my local thrift.
So if you ever get a chance - stop by one, noone knows you and unlike me, you don't have to announce where you got it from, but I like it when someone says "Hey I got this new pair of pants on sale for $39.99" and I go "hmm, everything I wore this week totalled $39.99" and we didn't look any different, lol lol lol lol lol lol
---
Hammer Don't Hurt Em!
For the expanded cable subscriber; VH-1 Classic is having an all day "Yo MTV Raps" marathon. Boy I cant' wop like I used to, lol lol But I'm damn sho gonna try.
Hip Hop at it's Finest!
---
My Baby Daddy of the Week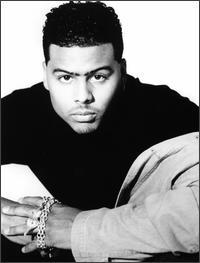 When Light Skinned Was In - My child would have ROCKED the Unibrow!
Posted by Pamalicious :: 3:18 PM :: 0 comments


---------------oOo---------------