Monday, July 04, 2005
Sunset Monologue 51
That's One Serious Cookout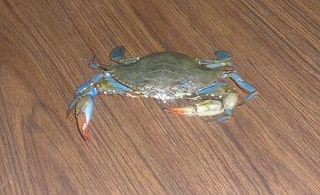 Dead Crab Walking
I got this title from a four year old, who came over to Janet's house today and thought the party was still going on from last nite. It is quite fitting for the good ass time we had! Well I've never been in a party situation with Janet and not had a good time but it was quite nice this time. We really got to poppin bout 4:00ish or so and the conversation was just soooo loud and rowdy and the kids were all having a good time. The food was off the chain and the crab boil done by "JD" (Janet's Husband) was really good. It was my first time participating in crab eating. I remember back in the day in New Jersey, we went to the beach for the weekend and there were crabs but I ate some of someones and basically abstained. Well this time I got ONE LESSON and was on my own and as one guest said "you down, never seen a first timer clean a crab so fast" LOL LOL.
Yummy
What's funny is that at most of our parties the GROUP is so lively and off the chain that we never have music. It gets in the way as a matter of fact. Now we had Dave Chappelle playing on the TV as our white noise, but that was about it.
Drink anyone?
Liquor was F-L-O-W-I-N-G!! I got nice (I got there about 1 so I was already nice by 4) Mingling, talking, ages of adults not relevant, us all just grooving and enjoying the day.
Highlight of the evening was when we gathered for a roundtable...subject, "Bobby Brown" The moderator was crunk as he position Whitney as this Angel and then got SMACKED as we all praised Bobby! You talking about hilarious, especially when Janet when and got the scarf and came out and cussed us all out on behalf of the "King of R&B"
Apparently there was about two more hours of party after 11pm, but I missed that since I was passed the hell out in my favorite chair. I woke up and then just crashed again, lol
Today we just kinda laid around, ate leftovers and chilled. "JD" always cooks breakfast and that was quite good. Janet and JD are good good people. Some of the best I have ever encountered in my life. I love them as people and I'm glad they are my friend and have exposed me to their family and that me and my child were embraced. Now the rumor is I don't really have a child because she ain't never at these functions, lol. I promised she would be at the next one around Labor Day, lol
So to sum up the weekend festivities as I hear the Thunder off in the distance about to mess up the fireworks..."Janet" gave my permission to post her picture and so here we are happy, drunk and bestest of friends :)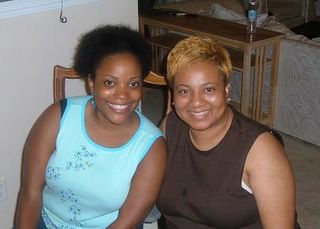 Janet and Me
---
Mommy Mommy....Guess Where I'm at?
Mini-Me called me and I smiled at that squeaky voice...she was calling me from Live 8 (which had a main stage in Philly). She was having a great time! She had never been to a concert, so this was a first and what a concert to attend. I am so happy that she is having a good time (and a mite bit jealous, lol) I and she are blessed. I have to take a moment and send my brother a small thank you, he's spending some good quality time with her and she needs that male attention.
Posted by Pamalicious :: 6:44 PM :: 0 comments


---------------oOo---------------